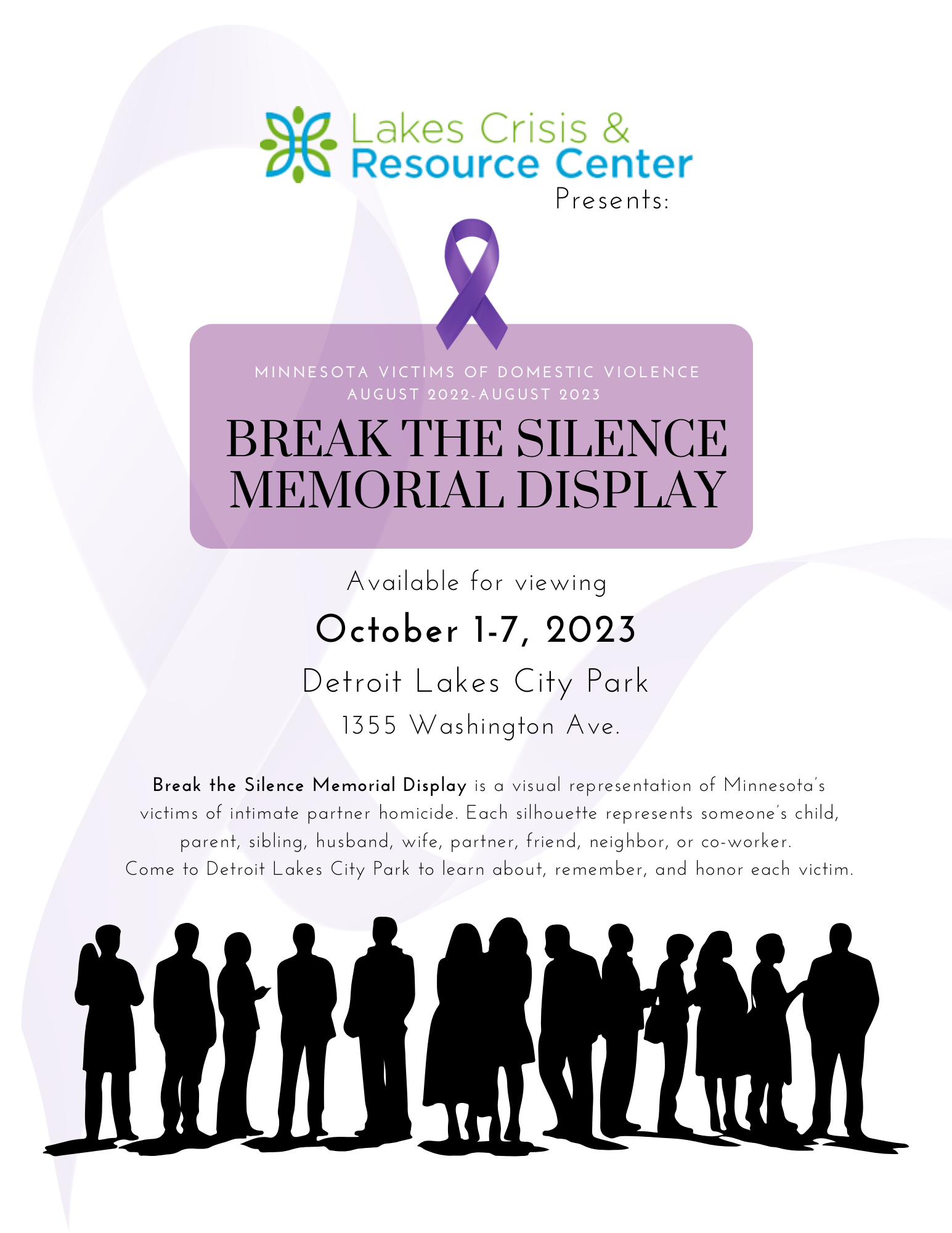 Ka Lor, 30, was shot and killed by her partner in their St. Paul home on August 17th, 2022. He then shot and killed himself. The couple's five children were home at the time of the killings. Their oldest child, a 9-year-old, witnessed the shootings and called 911. Ka's sister described her as "the best mom to her children and the best sister and daughter anyone could ask for."

 

---

 

Carissa Joy Odegaard, 31, was beaten and killed by her ex-husband in his Warren home on August 23rd, 2022. Carissa had arrived at the home and was attacked when she tried to pick up the children. Carissa's five children under the age of ten witnessed the beating and strangling. Two of the children went outside and were able to flag down a car to get help. Carissa's family describe her as a "mother, daughter, sister, granddaughter, niece, friend, creative photographer, pumpkin spice connoisseur, and child of God." Carissa was actively involved in her church, and she made being a mom her greatest privilege. Carissa will be deeply missed, but her selfless example lives on in our hearts.

 

---

 

Shanna Renae Daniels, 43, was stabbed and killed in her North St. Paul apartment by her boyfriend on August 25th, 2022. Police responded to a fire at the apartment, and after it was extinguished, they found Shanna's body. She was found with extensive stab wounds and other injuries. Shanna was dedicated to her family and loved her fur babies, Scully and Gucci. Her family says, "We loved Shanna and our fond memories of her will live forever in our hearts. Although her life was taken so abruptly, we are so grateful God blessed us with her beautiful presence."

 

---

 

Alberta "Bert" Sue Nelson, 65, was stabbed and killed by her husband, who then killed himself, in Rochester on September 5th, 2022. Bert enjoyed riding her motorcycle, working at Terril High School, doing word searches, going to MN Twins games, bowling, playing card games with friends, and golfing. Bert leaves behind five adult children and two beloved granddaughters.

 

---

 

Nicole Michelle Hammond, 28, was shot and killed by a coworker at their workplace in St. Cloud on October 24th, 2022. The coworker had been attempting to begin an intimate relationship with Nicole for at least a month before he killed her. Nikki was a very talented writer and enjoyed working on her car with her father. Nikki loved hiking, kayaking, photography, beading, traveling, and the ocean. She was very proud of the fact that she was in the process of starting her own jewelry business. Nikki will be dearly missed by all who knew her.

 

---

 

Zaria Rashun McKeever, 23, was shot and killed in her Brooklyn Park apartment on November 8th, 2022. Zaria's ex-boyfriend purchased a firearm and ordered two friends, aged 15 and 17, to break into her apartment and shoot her and her new boyfriend. Zaria's sister described her as someone who loved life and was bright, fun, and positive. She was a makeup artist and loved to draw. Zaria leaves behind a one-year-old daughter.

 

---

 

Tu Anh Phan, 49, was shot and killed while dining at a Bloomington restaurant with a friend from college on November 23rd, 2022. The ex-husband of the friend believed that she and Tu were in a relationship and targeted him out of jealousy. We remember Tu Anh Phan.

 

---

 

Alexandra Lee Pennig, 32, was shot and killed by her boyfriend in her St. Paul apartment on December 16th, 2022. Alex's family says, "We are devastated by this loss and will feel the absence of Alex forever. She was smart, vibrant, and empathetic and had a huge place in her heart for the underdogs in our society. She followed her passion to help others by pursuing a career in healthcare as a registered nurse. Throughout her career in healthcare, she sought out opportunities to care for the disadvantaged and the forgotten." Alex leaves behind her parents, a sister, two nieces, and her pet cats.

 

---

 

Kimberly Ann Robinson, 41, was shot and killed by her boyfriend in Rochester on December 26th, 2022. Her body was found in a snowy ditch with a gunshot wound and blunt force injuries. Kimberly was last seen by her family celebrating Christmas with her three sons at her mother's house. Her oldest son says, "My mom Kim was a great person who had the right intentions in all she did. She did not deserve what happened to her. We will fight for justice for her and make sure it's given."

 

---

 

Jasmine Marie Nelson, 27, was beaten and killed by her boyfriend in her Medina home on December 29th, 2022. Jasmine's two daughters were home at the time, and the older of the two said she witnessed the attack while her mother cried and asked him to stop. Jasmine graduated from Willmar Senior High School and continued her education online obtaining a two-year degree in music production. Jasmine was crafty and spent time crocheting, drawing, painting, and using resin art. She enjoyed penguins, listening to music, and coloring her hair. Jasmine loved to spend time playing with her children.

 

---

 

Logan Gregory Barham, 22, was stabbed and killed by his wife in their St. Louis Park apartment on January 3rd, 2023 during an argument. Logan enjoyed music, movies, video games, spending time with his friends, and sharing kindness with people when he knew they needed it. He was a loyal friend, a fierce protector, and an independent soul. Logan's parents remember him as their "first born, their gentle-hearted child, and a beautiful and empathetic soul whose death will leave an unfillable void in their hearts." ​

 

---

 

Kyla Bianca O'Neal, 31, was shot and killed by her ex-fiancé in her car in Lakeville on January 8th, 2023. She had ended the relationship with her fiancé just hours before she was killed. Kyla was nine months pregnant at the time of her death. Doctors were able to deliver her son, Messiah O'Neal, at the hospital. Unfortunately, Messiah died 9 days later. Kyla leaves behind three young children.

 

---

 

Messiah O'Neal died on January 17, after he was taken off a ventilator at Hennepin County Medical Center. On January 8, Messiah's mother, Kyla O'Neal, 31, was shot and killed in a car outside her work. Kyla's ex-fiancé, and Messiah's father, Donte McCray, 32, is charged with second-degree murder in her death. Kyla was nine months pregnant with Messiah at the time she was killed and doctors were able to deliver him on January 8. Messiah remained in critical condition with no brain activity and the inability to breathe on his own until January 17. Authorities are currently deciding on further murder charges for Donte McCray in the death of his son, Messiah O'Neal.

 

---

 

Manuel Bernal Jurado, 17, was shot and killed by his girlfriend in Chanhassen on February 2nd, 2023. During an argument in the car, Manuel's girlfriend took possession of his firearm. Manuel warned her that the gun was loaded before she pointed it at him and shot him. According to his father, Manuel was a South St. Paul High School student who "enjoyed hanging around with his friends and was enjoying his teenage years, going out and dancing. He had a great personality and was very outgoing and charismatic. A lot of people loved him."

 

---

 

Jennifer Yang, 36, was shot and killed by her partner, who then killed himself, in their Andover home on March 9th, 2023. Jennifer's siblings remember her as having "a glow from her whenever she came to the room. She believed in self-empowerment and being a lifelong learner; she was always talking about the latest class she took or a new fact she learned. The realization that Jennifer isn't coming back has caused a pain so deep and wide." Jennifer leaves behind three young children.

 

---

 

Adrian Montano Medina, 20, was shot and killed while on lunch in the parking lot at work in Howard Lake by a male coworker on March 20, 2023. The male coworker's wife had told her husband she wanted a divorce that morning before work. At lunchtime, the wife got into a vehicle with Adrian to have lunch. The coworker got into the vehicle behind Adrian and told him to either leave the vehicle or drive away. Adrian was killed when he did not comply. Adrian enjoyed music, football, and spending time with friends. One friend writes, "It was a privilege getting to know him. He was very kind, affectionate, and funny. I will miss him a lot."

 

---

 

Corrina Dawn Woodhull, 41, was stabbed and killed by her estranged husband in St. Paul on March 21st, 2023. The two were attending a group bible study when the attack took place. Friends and family who were there stopped the attack and subdued the killer until the police arrived. Corinna worked at a substance use disorder treatment facility in St. Paul, and often volunteered at nonprofit organizations and ministries. A friend said, "She was always doing something for somebody else, always trying to make other people's lives a little less broken." Corrina leaves behind 2 adult and 3 minor children.

 

---

 

Madeline Jane Kingsbury, 26, was killed by her ex-boyfriend in Winona on or about March 31st, 2023. Madeline was last seen with her ex while dropping their children off at daycare. She was missing for nearly 70 days before her body was found. Madeline leaves behind two young children. Family members say Madeline was passionate about her work, and they often speak of her humor, fierce loyalty, and undying spirit; "we will sorely miss her smile, her bubbling laughter, her beauty, her intelligent mind, and her charm, as well as the way she folded everyone she met into her heart. No one she ever met was a stranger for long, they were just friends she hadn't met yet".

 

---

 

Donshay Hardy, 38, was shot and killed by her husband in her St. Paul apartment on April 8th, 2023. Police responded to a call after Donshay's children ran screaming from the apartment to call 911. Donshay is remembered as "very outgoing. She was one of many that kept the family together. She was always the one who was checking on everybody. She was a great mother, and she loved her kids." Donshay is survived by two young children.

 

---

 

Joshua Anthony Owen, 44, was shot and killed in the line of duty by a domestic violence suspect in Cyrus on April 15th, 2023. Josh, a Pope County Sheriff Deputy, was responding to a DV call at an apartment with one other deputy and a Starbuck police officer. While inside the apartment, the suspect drew a firearm and began openly shooting, striking all 3 officers, and ultimately killing Josh. Joshua leaves behind his wife and a minor son. Josh served his country in many capacities, including the Army with deployments to Bosnia and Iraq, being an accomplished diver on the county's dive team, and a former member of the county's SWAT team. Josh enjoyed fishing, hunting, boating, and weightlifting. Josh also loved dogs and was the department's current K9 officer.

 

---

 

Manijeh "Mani" Starren, 33, was killed by her boyfriend on or around April 21st, 2023 in St. Paul. Mani was reported missing by her family on May 1st. Mani was last seen on surveillance footage being chased, caught, and dragged back into her apartment by her boyfriend on the night of the 21st. Mani was a loving mother of 3. According to her best friend, "her most important thing is spending time with her kids". Mani was also known to make friends everywhere she went because "she has this positivity and patience and kindness that she shows you no matter who you are".

 

---

 

Antonio Levar Moore, 37, was stabbed and killed by his sister's ex-boyfriend in Brooklyn Center on May 2nd, 2023. Antonio's sister called him for help that night because her ex (whom she shares a child with) was at her apartment, had punched her twice in the face, and after being locked out, still would not leave. When Antonio arrived, he confronted the ex about hitting his sister. Antonio was then stabbed after things escalated into an altercation in the parking lot. We remember Antonio Levar Moore.

 

---

 

Sabrina Lee Schnoor, 25, was shot and killed by her ex-boyfriend under an I-35 overpass in Owatonna on May 29th, 2023. She suffered years of abuse before she left. Sabrina was last seen on surveillance, being shoved under the overpass, then him leaving alone moments later. Sabrina leaves behind a young son. Sabrina enjoyed fishing, camping, music, being in nature, and was a lover of all animals. Sabrina's mother now uses her voice to raise awareness about DV, urging others to seek help. Her family describes her as "such a joyful person, always holding on to her goofy, childhood spirit. She always saw the good in others…"

 

---

 

Angela Marie McClelland, 49, was struck and killed by a vehicle driven by her husband in Fort Ripley Township on June 25th, 2023. Angela and her husband attended a birthday party on the 24th, then got into an argument on the drive home. Angela's body was found on the side of a road the next morning with significant trauma and abrasions consistent with being struck by a vehicle. Angela is survived by her six children and several fur-babies. Friends and family described Angie as "loving hunting, fishing, being outdoors, and was a phenomenal constructor of bonfires", and "sometimes she was shy and quiet while other times she was loud, eccentric, and often the center of those that gathered around her."

 

---

 

Vickie Marie (Solmonson) O'Brien, 63, was shot and killed by her husband in their home in Sylvan Township on June 26th, 2023. Vickie's husband then took his own life. Vickie is survived by her 2 daughters and a grandchild. Vickie was a nurse, teacher, and was also well-known for her love of animals, including hand raising some exotic species from monkeys to bear and lion cubs, parrots, reindeer, and several others. Family says, "Vickie will be remembered for her deep connection with her students and patients, her love for her family and friends, her passion for animals and her legacy of compassion."

 

---

 

Youa Vue Khang, 58, was shot and killed by her husband in a Brooklyn Center shopping center parking lot on July 3rd, 2023. Youa and her husband had been arguing while in the store. Once in the parking lot, Youa's husband opened the door of their car for her to get in before shooting and killing her. Youa's husband then killed himself. We remember Youa Vue Khang.

 

---

 

William Lamont Hudson, 40, was shot and killed by his girlfriend's ex-boyfriend in Minneapolis on July 5th, 2023. After a July 4th barbeque, William and his girlfriend were walking near her apartment around midnight, when the ex-boyfriend confronted them. He shot William in the stomach when William's girlfriend threatened to call the police. We remember William Lamont Hudson.

 

---

 

Danicka Marie Bergeson, 33, was found dead in her Hopkins apartment on July 8th, 2023. Her boyfriend was previously charged twice with assaulting Danicka and is now being held for her death. Danicka's life is marked by her unwavering commitment to serving others, including the time she served in the U.S. military as a field medic. Danicka served her country with pride and had a love for all animals, earning a degree in animal science in 2007. Danicka's family remember her "for her way of being so cheerful, noble, kind, sincere, loyal, empathetic, loving, and intelligent."

 

---

 

Darisha Tela Bailey Vath, 17, was struck and killed by a vehicle being driven by her ex-boyfriend's friend at a park in Forest Lake on July 16th, 2023. During the early morning hours, a fight occurred between two groups of teenagers and young adults at the park. When the fight was deescalating, the ex-boyfriend and his friend intentionally drove the car into a group of people. Darisha loved to spend time with her extended family members and had a passion for all animals. Darisha's parents say, "she was a well-loved, goofy, kind-hearted person who could light up any room, and had plans to become a veterinarian someday."

 

---

 

Jean Harriette Mart, 77, was killed by her husband in her Perham home on July 16th, 2023. Jean's husband admitted to hitting Jean's head against their granite floor, killing her, before going to bed. The following morning a standoff between the husband and SWAT teams began, but he eventually surrendered and was taken into custody. Jean's cause of death was determined to be multiple blunt force injuries and a gunshot wound to the head. Jean's tribute wall describes her as having an infectious laugh, always giggling, loving her 5 grandchildren, and enjoying bingo with friends.​

 

---

 

Mary A. Corneliusen, 66, was shot and killed by her husband in her Warroad home on August 28th, 2023. Following a verbal argument, Mary's husband shot and killed her. Mary was described as a "rolling stone, traveling and living in many, many places. Mary had countless stories about her adventures and always spoke her mind." Mary's family say her taste in music was impeccable, she was generous and caring, and she lived hard, but loved harder. Mary is survived by her 3 children and 8 of 9 grandchildren. Mary's motto was, "look out for you and yours".